eWallet for Android and biometric authentication
Does eWallet for Android support biometric authentication?
Yes! Starting with version 8.2, eWallet® for Android on compatible Android OS 6 and later devices will support the built-in fingerprint scanner. eWallet 8.5 and later for Android supports facial recognition, iris scanning, and of course fingerprint recognition as well on compatible Android devices. Biometric authentication for your wallet is turned off by default, but you can enable it for your wallet(s) as outlined below.
To enable biometric authentication:
unlock your wallet with your password
go to the More (three dots) menu
select Biometric Authentication
select Enabled
You're all set, you can now use biometric authentication to unlock your wallet. Please see the notes below for important information on using biometric authentication with eWallet.
To use biometric authentication:
If you don't see a biometric icon below the password area when you start eWallet, that likely means you need to enable the biometric authentication for that particular wallet. When you see the biometric icon, you can tap it to bring up the panel that lets you unlock your wallet in the same way that you unlock your device.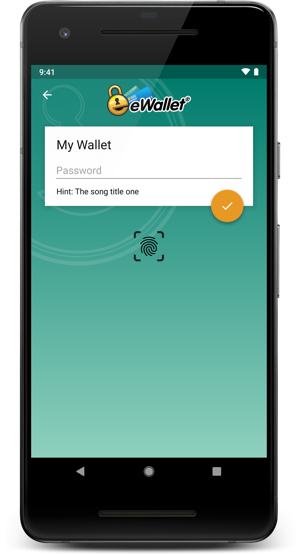 Important Notes
Using biometric authentication is a convenience but is not a permanent substitute for knowing your wallet password. There are several ways that biometric authentication can be disabled, so it's really important that you remember the password to your wallet.